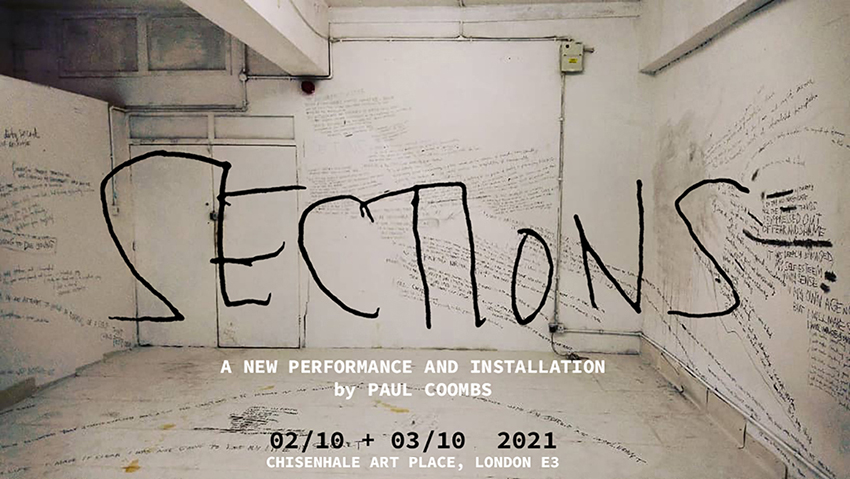 A NEW WORK-IN-PROGRESS PERFORMANCE + INSTALLATION
Studio 4 of Chisenhale Artist Studios, Chisenhale Art Place, 64-84 Chisenhale Road, London E3 5QZ
02/10 + 03/10 2021
Presented as the culmination of my month-long residency at Chisenhale Art Place, I will be presenting a new, in-progress, performance staged within the unique setting of the studio space where the work was created; the walls and the floor scrawled with experiences, memories, confessions, and workings-out.
Sections' explores the impacts of anti-LGBTQI+ legislation on those who grew up under their influence, collaging my own experiences with those of others who contributed through an open-call. This is a rare opportunity to see intimate performances by the artist, presented within a unique studio environment.
Due to Covid restrictions being maintained throughout the building, there is a limited capacity of 5 audience members per time slot. Each slot will contain a live, spoken-word, performance, with time to view the studio installation. Please arrive promptly at the start of your chosen time slot.
FREE TICKETS CAN BE BOOKED HERE
Saturday 2nd October : 2pm - 7pm (last entry 6pm)
Sunday 3rd October : 2pm - 7pm (last entry 6pm)
For audiences 16+. These performances contain explicit language and content of a sexual nature. Facemasks must be worn in the building at all times, unless you are exempt. We regret that there is no disabled access to the studio, which is on the first floor.
I would like to thank all the brilliant people who have contributed to this project, who include:
Kate Anderson, LB, Alexander Christie, Joe Foulsham, Rich Goodson, Fritha Jenkins, Adam Lucy, Stiofan O'Ceallaigh, John Walter, Gerry White, Robin Whitmore, Daniel Wilkinson